Live Social Data Visualization Sculpture the HÜB Launches at Northside Entrepreneurship Conference
The HÜB@Northside showcases the fastest growing startup sector in the US: BROOKLYN.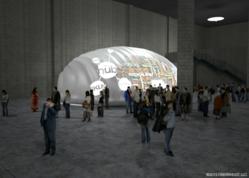 HÜB@Northside by ÜBERANGST
How many times have we all stared at our mobile devices, endlessly looking for that magic connection, almost like a modern version of the Magic 8-Ball?
Brooklyn, NY June 12, 2012
The HÜB@Northside, a state of the art inflatable social space with the ability to display a variety of, real-time social connections and data visualizations inspiring you to "Look Up" will be located inside The Entrepreneurship Conference Headquarters, 149 Kent Avenue at North 5th in Williamsburg, Brooklyn.
The HÜB@Northside is the social town square and meeting place that connects innovators by enabling them to use social media to connect in a live environment, with others with similar interests. Contained inside the HÜB will be special events, a pitch space, and unique content not available at other festival venues such as one on one interviews, autograph sessions and contests. Inspired by the need to make meaningful connections at live events.
The HÜB has partnered with award-winning social discovery app Sonar to power a real-life, real-time social network among conference attendees. Sonar is the best way to connect and share with people nearby, and they share the HÜB's vision for inspiring people to "Look Up" from mobile devices and connect face-to-face.
You can download Sonar before you arrive at Northside, to know more about and connect with the other people around--people you're already friends with and people who share your interests and connections.
"We wanted to curate a better way of connecting with others in the context of a live conferences. We asked ourselves, how can we help participants find their next co-founder, funder, or client and make sure they shake hands and not just tweet about it? How many times have we all stared at our mobile devices, endlessly looking for that magic connection, almost like a modern version of the Magic 8-Ball? How can we make sure they leave a venue with a connection that is truly valuable to them? The HÜB is our answer." - Peter E Raymond - CEOÜBERANGST
The HÜB will be unveiled at the Northside Festival, NYC's largest and most accessible discovery festival. Hundreds of bands, entrepreneurs, filmmakers, innovators, and over 80,000 fans converge on Brooklyn over eight days to witness the most incredible showcase of "what's next" in music, film, entrepreneurship, and art.
The Northside Entrepreneurship Conference is focused on design, technology, and business innovation. It consists of a series of major keynotes as well as over 50 panel discussions, a trade show pavalion, and the Startup Campus at NYU-Poly. Hear stories from the CTO of Etsy, Bre Pettis of Makerbot, Brett Martin CEO of Sonar, Fred Wilson of Union Square Ventures, Charlie O'Donnel of Brooklyn Bridge Ventures, and GZA founding member of Wu-Tang Clan. Meet network, interact, and collaborate with the names and faces of design, innovation and tech in NYC.
Some of the unique content that the HÜB@Northside will curate are specific trending Twitter hashtags; living tag clouds, brilliant real time social data visualizations; curated festival film, music and art content; attendee submitted content "mashed up" live; networking & meet-ups, a live Pintrest bulletin board; and more. The HÜB@Northside is accepting submissions through its website http://www.hubatnorthside.com to showcase the new innovators and unique startups of NYC.
As part of the special content being curated, the HÜB will accept speakers and content on-site during its "Feasibility Slam": A hour long, heads up low-risk high-yield ideation event that enables participants to leverage their intellectual capital, while orchestrating and recontextualizing mission statements in a real time/live crowd sourced social network. Project and implement thoughts on how to seamlessly fuse branded customer interactions with holistic content creators like yourself in the evolving cloud ecosystem. Learn how to fast track key enablers and analyze performance enhancing matrices. Understand how SEO keyword rich trend tracking can lead to ROI while on-boarding the pain points of your stakeholders . This out-of-the-box, non-proprietary, open sourced event with no brandcuffs, absolutely no brandcuffs that will produce concept deliverables via a mash-up, in a real time, live gameifed feasibility slam curated into a compressed format of 30-second intervals. Audience engagement will rearward additional time units. This streamlined format allows for tip of the iceberg thinking, with user-centric cross functionality, agnostic of A-B testing paradigms. This event is sure to be a win-win, best-of-breed, world-class event that is the tipping point among outliers that increases your bandwith and will drive the bottom line.
Really? No, but If you can't stand the jargon above come and talk about it, you have 30 sec to pitch or bitch, gain more time if the crowd likes you and become the next trendsetter.
After Northside the HÜB@ will continue to curate connections at other conferences and special events such as SxSW, AllThingsD, Comic-Con, CES, international auto shows, consumer and industry event and other unique venues around the globe.
THE HÜB@NORTHSIDE is Made in NYC and is a project of Brooklyn-based ÜBERANGST and Human Condition, in collaboration with Brooklyn-based Northside Media Group during The Entrepreneur Conference of the Northside Festival from June 14-15. HÜB partners include, Sonar, East River Ferry & Clear Wireless.
Learn more: http://www.hubatnorthside.com
About ÜBERANGST:
ÜBERANGST is a high-end design, production and App agency. We push the envelope, and need to be challenged. We have digitally brought the Mojave to Brooklyn and raced cars through Times Square. We design the future of consumer interaction. We are reinventing vehicle navigation. We are designing augmented reality glasses to change the way we view the world. We develop innovative brand and product interactions for Fortune 500 clients, sometimes even simulators. We design custom apps for our clients and games for ourselves.
http://www.uberangst.com / @uberhub_hub / @uberangst
About Human Condition:
We are an innovation, R&D, think and do tank.
We steer the strategy of innovation through communication, R&D, and technology. We work with the socially conscious enterprise large and small, universities, governments, and nonprofits to solve their pressing challenges.
Human Condition is certified as a emerging biotechlology company by the City of New York.
http://www.hcxdesign.com / @hcxdesigntweets
About Northside Media Group:
Brooklyn has become an international adjective meaning "What's next." The Northside Media Group's mission is to define and showcase that adjective through media, digital and large-scale events.
http://www.northsidemediagroup.com / @northsidefest
For media inquiries please contact:
Jesse Wachtel
Executive Producer - ÜBERANGST
jesse (at) uberangst (dot) com
347-465-7857
###
ÜBERHUB
|
Posted on
Tuesday, June 12, 2012 at 4:05PM
|
Print Article
|
Email Article
|
Post a Comment →
View Printer Friendly Version
Email Article to Friend